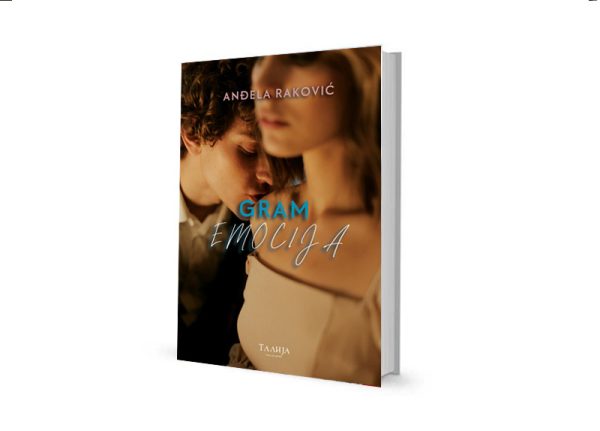 GRAM OF EMOTIONS
13.00 €
That we sometimes fall in love with the wrong people and fall into a labyrinth from which we find it difficult to find a way out is best witnessed by this novel. The main mover of the main heroine, Jovana, are emotions, that is, her great desire to love and be truly loved. She is ambitious, a workaholic, a passionate lover of travel and life. She is a girl who runs away from her homeland, wanting to get over the breakup, forget her first love and find herself first in Malta and then the real one. However, this escape will lead her to a more serious sin and the "Maltese knight" she falls in love with will turn out to be a married man with several children. How will Jovana react to that knowledge, will she?
To fight for him or give up that act and what will happen to her, we have to read.
Andjela Raković explained extraordinarily in her novel why the book is called "Gram of Emotions" and whether a handful of emotions can be reduced to one gram.
Description
1
I don't know how to call you without making a mistake about yours description.
I don't know what you've been in my life so I can say it with ease.
My friend – yes, of course.
My lover – yes, the only one on this the world.
My advisor – yes, the only one from whom I accepted and adopted opinions.
My man – no, you weren't,
I shared you with the one who didn't know. I was your mistress, I admit …
2
After dinner we went down to the shore. It was someone else an exit you just couldn't notice coming into his house. A hidden place appeared in front of us so that no one would see him suffer. Because the rich cry too, don't they?
Those we admire, long for their covers, we think they are untouchables, those who can be with whom they want and when they want, they cry too. Yes, those rich people who reap the fruits success, recorded by a good projectile developing in to some great studio out there that erases imperfections from the face, makes you smile and destroys the ugly picture of reality and then serves us fairy tale. And we believe and think that they are all happy.
In fact, maybe we are happier than them? Happiness is not in money, happiness is in the soul. Happiness is in ourselves.
– Here you can best see the composition of the sea and the sky.
Look at that orange line. Sometimes it reminds me of mine life. I'm close to Mary and yet so far away.
– Have you ever been with a woman after her? I asked.
The moment I heard my question I realized how much again
I turn out to be curious and start getting on my own nerves.
Too intimate and not at all a nice question comes out of my mouth.
Still answer.
– I never did. I wasn't ready.
He turns his head and looks at me.
– Do you think you'll ever be? – I keep questioning,
I feel like it's getting cold already. He takes off his jacket, gives it to me and I pass it over my back. I can smell it on me and
I wonder what it is that I feel for him. What is it that me to hell with so much attraction to him? So much so that I wish I was there forever. And I don't love him. And I'm not in love. And it's nothing in in relation to what happened to me with Siniša. The wind pushes me but he shifts the strands over his face, a cargo can be heard in the background ship. The sky is orange and the scene is perfect.
– I fell in love with you, Jovana.
This sentence surprised me. I didn't expect her.
I'm not saying anything.  Somehow I don't even know what to say. Like not I trust no man anymore and it's like I'm all of a sudden emotionally empty. I look away from him. I'd rather watch ships, swollen waves, than another man who we story of lies …
– You won't say anything? He asked, interrupting my flow of thought.
– You're not in love, I'm just reminding you "Mary," I said.
– No, it's not like that. That you remind is afact but no one like that it did not enter my life.
– What kind, Daniel? I asked, turning to him.
– Similar to me. Someone who reads my mind, who loves the same thing as
I love … Give me a chance to show you how much I can love.
You will be happy, I promise you.
My hands touched my shoulders and suddenly our eyes met in the eyes. If only I could talk about his eyes. Yes I describe them as they really are. Large. Green. Magical eyes with thick lashes. If only I could be with him and I can't because I'm missing the damn … gram of emotion. He approaches my lips and kisses them. I feel warm. Your forehead leans on mine and squints. He does not repent, he is ashamed. I feel.
And I, I don't regret it either, but I don't know how I feel. I'm struggling with internal unrest. I know it's impossible with Siniša, but who says love will fail in the end? Who says we won't to be happy if we just give each other a chance? I have always believed that love cannot but find its way and succeed. Just like water that meanders and passes through rocks and boulders, grass and grows but always breaks through and comes out of it stronger.